To my shame, I've not got the best track record in recent years of spending time with my Mum – life kind of gets in the way, and it's been all too easy to put off a call or a visit until "next weekend".
Mum's very recently had a cancer diagnosis, and when I visited her the other day on the Emergency Assessment Ward at Northampton General Hospital we had time for the sort of nice long chat we hadn't had in ages, without life getting in the way.
Funny how priorities can change.
Mum was a nurse for most of her working life, a Ward Sister in 1960's Glasgow, and it was fascinating to hear her observations of a modern Ward – distanced from her own by several decades and a polar role reversal.
What struck me was how, despite things being quite different today (the lack of starch, how quickly patients are discharged, "we were terrified of Matron"), the way the NHS delivers care to us is fundamentally very similar to how it has always been – lots of committed, skilled, conscientious people, all working incredibly hard.
The brute force, "grit your teeth and get it done" approach. Just as it was in Mum's day
The problem is, I'm not convinced the "how it's always been" approach is enough anymore – a view shared by the headline writers…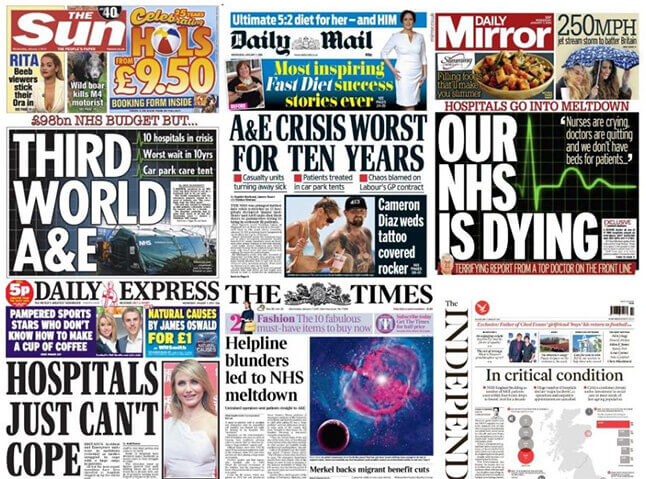 Funding has been tight, there's no question of that – more than 40% of trusts are in financial deficit.
The service has to accommodate a growing, aging population suffering from long-term conditions, a feedback loop from questionable social care provision, and an ever more watchful press and public.
The ability to do more with less has never been so critical, so difficult, or so closely scrutinized by so many.
It is against this landscape that the Prime Minister recently set out a 5-year NHS funding plan, with the NHS to receive increased funding of £20.5 billion per year by the end of the five years to regain core performance and lay the foundations for service improvements.
New programmes and projects will undoubtedly be initiated as the funding lands, hopefully augmenting the CIPs, QIPPs, STPs, and GDEs of this world which are already in flight.
If patients are to benefit from this investment, effective project portfolio management will be of the utmost importance – managing the processes, methods, and technologies used by project managers and project management offices, ensuring specific success criteria are met, clearly and confidently reporting project status and benefits realized.
My Mum doesn't really understand what I do for a living or what PPM software is, but I'd like to think that she would agree that there's a strong case for it being an important tool in the kitbag of the NHS.
That, and more starch…
If you would like to hear more about Andy's thoughts on how patients can ultimately benefit from effective project management in healthcare you can contact him here. See how Cora PPM is helping Healthcare organizations to "do more with less" in our selection of Video Case Studies here.
Andy Welsh
Is perhaps the grumpiest ukulele playing, vegan cyclist you'll ever meet. 
He's also the Sales Lead for Cora Systems in the UK, and a true believer of the power of PPM to deliver quantifiable benefits to all organisations.
Connect with Andy Welsh on LinkedIn here