Why leaving Dublin to work in Ireland's north-west is best
Crowded capitals and the wonderful northwest
Only two or three years ago being located outside the Dublin Tech Hub seemed like a difficulty for tech companies. But now in a judo-esque move, being headquartered in the north west of Ireland is helping to draw talent into Cora Systems.
The Dublin housing market has reached boiling point, traffic is slower than it ever was, there's a constant battle for schools, and finding a place to live with a car parking space… Well, forget that. While the government is struggling to cope with building incentives and traffic layout options, other locations in Ireland are gaining an advantage.
Today's professional is searching for more out of life than a long commute to a dreary office park, dreaming of a far-off retirement. More young people who are looking for their second job after college are applying for positions with Cora than ever before, as our company and our location are consistent with their values and aspirations. And we have management-level people relocating from the UK and Dublin for the attractions and benefits of not being in an overcrowded capital.
Doing cool stuff
Making cheese, keeping bees, setting up a mountain bike park, DJ'ing – the Cora gang are a busy bunch! I'm tempted to call Carrick 'the land of milk and honey' given those first two unusual hobbies, but I'm told the bees are the wax-producing kind! The cheese-making came about when one of our software developers, who moved from Dublin in July, was able to get raw milk from a teammate's family farm to make a Portuguese-style specialty. I think he might be selling it at a farmers' market back in Dublin!
Another of our developers was selected as a wild-card pick at the world mountain bike championships. To prepare he trained like crazy, and two other guys in the offices caught the mountain biking bug from him. With his friends he dreamed of setting up another mountain bike course in the area and have persevered to make it a reality/planning permission has just been granted.
Perhaps the cheaper rents and longer evenings courtesy of a ten-minute commute contribute to the attainment of some cool personal achievements. It is fascinating to see.
The best of the northwest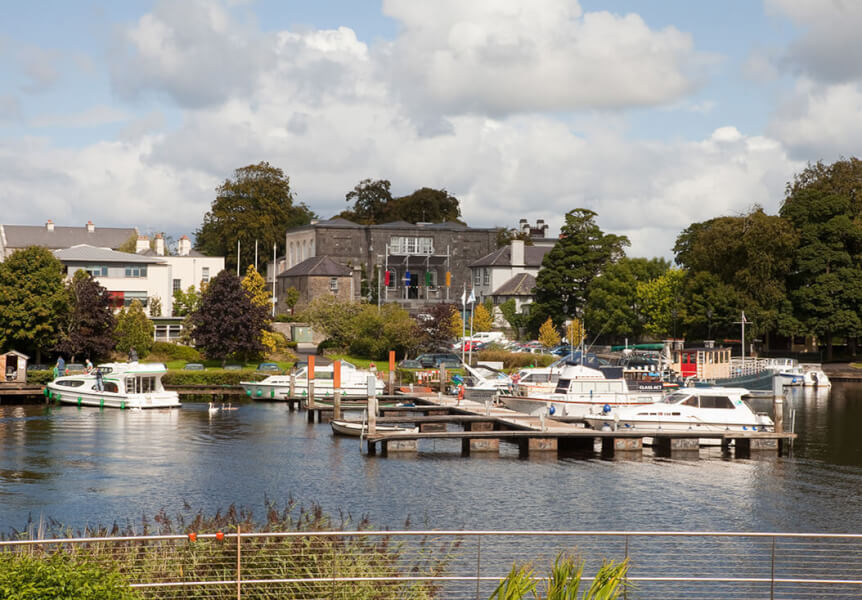 There is no doubt that Carrick and the surrounding areas have a bit of magic about them. The Northwest is not over-travelled and has retained a friendliness that surprises many visitors. Go into any shop, restaurant or pub and you will almost certainly be engaged in conversation and find yourself chatting for a while. A friendly, open community is one of the area's strongest assets. This was never more in evidence last year when the town of Ballaghaderreen created a 'welcome wall' for Syrian refugees coming to live among them and escape the horrors of war.
There are no end of amenities, arts projects, woods, parks, and historical sites in the North-west. There is even a beautiful ring to the names of some of these attractions: the 'Waterfalls of Killikulin' sounds like somewhere in the Lord of the Rings, and the name 'Lough Key' suggests the unlocking of a door to another world. (See loughkey.ie) The area is also known for boating and lake swimming, and is only half an hour from the sea. Software developers are synonymous with surfing, so being within easy access of world-class waves is a bonus. And for generations the northwest has been famous for traditional Irish music (see joemooneysummerschool.com), but it's not stuck in the past – one of Cora's marketing team is fast gathering a cult reputation as club DJ. While I'm not sure that our senior management team will be attending his club nights any time soon, it is fantastic to see young people having such an influence in shaping the local culture.
The future
It's often said that talent attracts talent, and that's what we see at Cora. One in five of our new hires comes through a referral from an existing employee. People settle in pretty easily and without doubt lasting friendships form. Today's young people don't see cities as the be-all and end-all.  They can travel to the city and enjoy what it offers; while not wanting to give away my age, it's not like "in my day" when travelling to the capital was a big deal.
At Cora, there is a great sense of adventure in forging in our own destiny in the northwest as a tech company, both inside and outside the office!
If you are interested in working for Cora but see no relevant vacancy on our Careers page please submit your CV in the strictest confidence to careers@corasystems.com and one of our team will get back to you.
Project Management Blog

Content
Jun 20, 2018